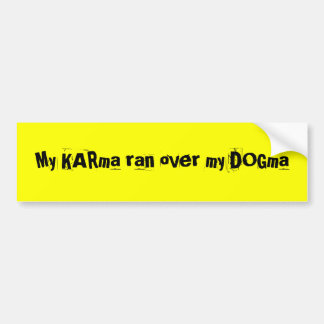 Blog post disclaimer: I do know that bad things happen to good people. I don't think life is always fair. I wis
h there were a formula.
That said, please read this slightly tongue-in-cheek post....and allow me to enjoy what I see as my good luck and good fortune.
Karma....very simply is the idea that if you do good things, good things will happen?
And vice versa.
Well, I'm not sure I am a 'believer' as such but it seems to be a reasonable premise by which to live your life.
I have a standing joke with FR about Karma when we set off to go into town.
If HE is driving, we will meet a tractor, be almost forced off the road by an incompetent aged citizen coming in the opposite direction, be stopped by a policeman, be sent on a detour, have to stop at every traffic light and zebra crossing and have every car in front of us travelling at an almost negative speed or taking an age to carry out a simple manoeuvre....Whereas, if I am driving, traffic lights automatically turn green as I approach, I'm waved on by policemen, cars wait for me to pull out.....get the picture?
I call this KARMA...I enjoy telling him that I don't believe everyone else on the road is an idiot with murderous intent or enjoy getting something over on another driver - as he does - and I am treated with due respect and consideration as a result.
I exaggerate, of course. A bit.
The Earl that I am not, in the title of this post, is a reference to a TV programme called 'My name is Earl'. A man who felt the bad things he'd done in his past had caught up with him and were causing him lots of bad luck in the present. So he makes a list of all the people he had been bad to with the intention of putting things right with them and so negate his bad Karma. It was a very funny series and I loved it!
I said I'd tell you some big news a little while ago. And I will - it's big for me though not so big for anyone else, of course. But it struck me that it was also a little bit of Karma too.
When I first met Sam I was working at the Interlengua Academy and had just had my hours extended and my contract improved. I was very happy with this. At the same time, I was offered some work with one of the main companies in town - Derprosa - to hold English conversation classes with some of the managers and key staff who needed to use English on the phone and for business purposes. It was very well-paid work and required little in the way of preparation...a very tempting offer. And around this time I met Sam for the first time. She was urgently seeking work and I admit to feeling immensely 'good' when I passed her the contact details for the job at Derprosa...my halo very nearly choked me. But it wasn't a totally selfless act. I had been told that the work would be evenings and as such, clashed with the contract with Interlengua...I felt I couldn't turn that work down after I'd been given such a good offer.
However, I almost choked again when Sam eventually started working there as it turned out she was asked to work mornings not afternoons!! Aaargh....
In the intervening couple of years - when we moved to Villalobos and I resigned from Interlengua - I confess to thinking more than once that those hours of morning work that Sam had 'could' have been mine and would have been so wonderfully convenient. And of course, Sam had passed on lots of teaching hours to me too - she didn't enjoy teaching children; I did. She taught the adults and we were both happy.
Well, Sam has also paid me back in spades when she left to return to Scotland recently, by making it a straight-forward task for me to take up where she left off at Derprosa. My only concern was that I would have to become 'autonoma' or self-employed to take on the work and that is a big commitment as a fixed payment has to be made every month, regardless of what you earn. However, the company want more hours now as they have recently been taken over by a big multi-national company and English is the common language. I will be doing not 'part' time work, but 'half' time work....
I started on Thursday and think I may enjoy this new venture very much. I will be able to continue with my children's classes too for the most part as only a small part of the work is in the afternoon. I am very happy indeed and unutterably grateful to anyone or anything that played a part in making this situation possible - I will call it Karma.
I will also make sure I try to be very good to people I meet every day. You never know!
Axxx