This morning we awoke to creeping fog. A fog that was rolling over the tops of the mountains and towards us. No sunshine for Janice and Mark's last view of beautiful Andalucia was what I thought as I peered out of the window. We had spent much of the previous day together and spent a little planning how to publish a set of shared posts about our get-together. You will have to wait a little while until Janice gets home before we can make a start on those. As my camera isn't working properly at the moment, I have no sneaky pictures to share before she gets home - we will have to wait!
And I am only going to blog here that I've just had a phone call from her to say that they've reached their overnight stop-off point on their journey home and have enjoyed a beach walk in beautiful sunshine in a place our family once holiday'd and liked,
Alcossebre
. This is great news because here at home, it's miserable and damp to such an extent that FR lit the stove for us! I think that tomorrow, they are planning on visiting another of my favourite spots, just over the French border, the very pretty town of Collioure. It will be more than thirty years since I was there but friends of mine who have visited since assure me it's still very lovely there. It should round off their holiday beautifully.
I shall leave you with a photo of Collioure and those of you who know Janice can imagine her sitting and having her lunch here tomorrow - and join me in raising a glass to her very good health.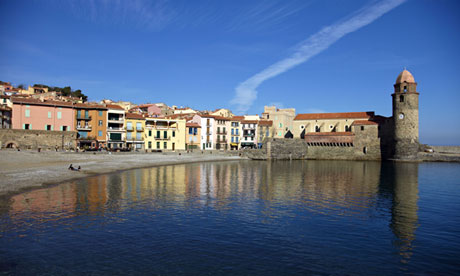 Picture courtesy of 'The Guardian'
(And I know I keep adding Mark in brackets but he too has been great company and I've really enjoyed getting to know him better!!)